Fighting raged around key cities in Ukraine on Monday as its first talks with Russia since last week's invasion concluded with no immediate breakthrough.
Even as Moscow said officials negotiating at the border had "heard" each other, Ukraine said its second-largest city was coming under attack from heavy Russian shelling.
Meanwhile, Russian President Vladimir Putin faced the growing fallout from an intensifying assault on his democratic neighbor that has rallied the West behind Kyiv and against the Kremlin.
---
Latest updates on Ukraine:
---
Ukraine's position has been bolstered by its staunch early resistance, military assistance from countries across the world and a growing sanctions effort that has sent Moscow's economy reeling.
The conflict was now also being fought in the shadow of nuclear threats, with the Russian military saying Monday that its nuclear deterrent forces had been put on high alert after Putin's order.
'A lot of resolve'
While growing numbers of people have fled the Russian advance, those who stayed were enduring an air assault that Kyiv and international watchdogs said was increasingly hitting civilians.
Russian forces were accused of carrying out massive shelling in Ukraine's second-largest city, Kharkiv. Graphic video shared on social media Monday appearing to show the assault and its aftermath. In one video, bodies can be seen on the ground in pools of blood.
Ukrainian interior ministry adviser Anton Gerashchenko shared video appearing to show flashes in the sky as smoke filled the air, and said that dozens had been killed and hundreds wounded.
"This horror must be seen by the whole world," he said. 
NBC News has verified the video is authentic, but it has not confirmed reports of any casualties from the incident. Russia has repeatedly denied targeting civilians.
United Nations human rights chief Michelle Bachelet said Monday that 102 civilians, including seven children, were killed across Ukraine since Thursday. But those figures probably undercounted the full extent of the national death toll, she added.
The head of the U.N. refugee agency, meanwhile, said that more than a half a million people had fled the country of 44 million in the wake of the Russian attack.
Others have sought shelter inside metro stations and parking garages while missile strikes and gunfire hit cities.
As Russian troops bore down on the capital, a strict 39-hour curfew that kept people off Kyiv's streets all weekend ended early Monday.
Residents stepped out Monday to replenish supplies and waited in line at supermarkets between the wail of air raid sirens.
"We are calm and do have a lot of resolve," Vadym Khortiuk, 28, said, adding that his hopes had been boosted by the fact that "we have a lot of support from our friends from the West."
That support has taken the form of increasing pledges of weapons and other military equipment, but also of a concerted effort to make Putin pay for the invasion economically.
Finland, for example, announced Monday it would ship some 2,500 assault rifles, 150,000 bullets, 1,500 anti-tank weapons and 70,000 food packages to Ukraine.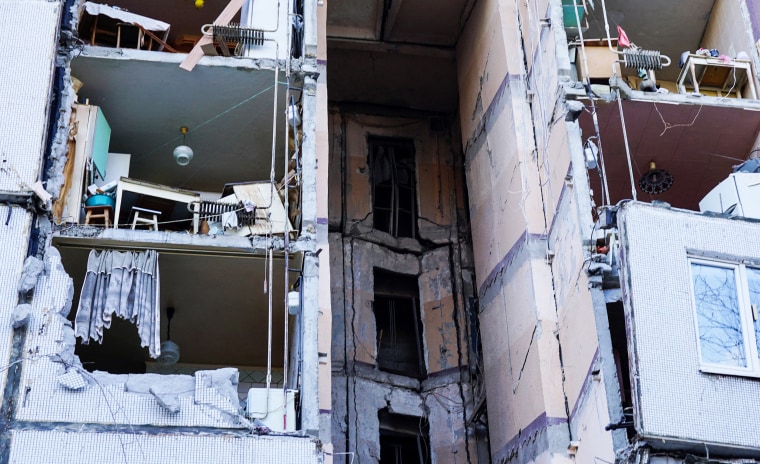 Ukraine sought to tighten its bond with the West on Monday, formally applying to join the European Union. Ukrainian President Volodymyr Zelenskyy posted photos of himself signing the application and appealed to the E.U. to "accept Ukraine immediately."
Crippling sanctions imposed by the United States and its allies sent the ruble plunging to record lows early Monday, while Russia's central bank kept the stock market closed and raised its interest rate to 20 percent from 9.5 percent in an attempt to shore up the plummeting national currency and prevent a run on banks.
The U.S. continued to ramp up the pressure, announcing it would expand sanctions on the country's central bank in a move that will block Americans from doing any business with it, and freeze any assets the bank holds in the U.S.
Switzerland, traditionally a neutral party in international affairs, announced Monday it would sanction Russia, too.
Kremlin spokesman Dmitry Peskov admitted that "Russia's economic reality has changed" due to the "heavy" sanctions, but said the country was prepared and able to handle the damage. Putin met with advisers on Monday about the economy, calling the West an "empire of lies" in remarks broadcast on state television.