At least 10 people were shot and six others injured after a man wearing a gas mask opened fire on a moving New York City subway train during rush hour Tuesday morning, authorities said.
The attack triggered a massive law enforcement response to Brooklyn's Sunset Park neighborhood and a manhunt for the suspect, officials said.
A Manhattan-bound N train was pulling into the 36th Street Station when shots rang out inside a subway car at about 8:24 a.m., NYPD Commissioner Keechant Sewell told reporters.
None of the wounded have life-threatening injuries, and this isn't being considered an act of terrorism, according to authorities.
"The suspect was in the train car, the shooting began in the train car," Sewell said during a news conference.
"As the train was pulling into the station, the subject put on a gas mask. He then opened a canister that was in his bag and then the car began to fill with smoke. After that he began shooting."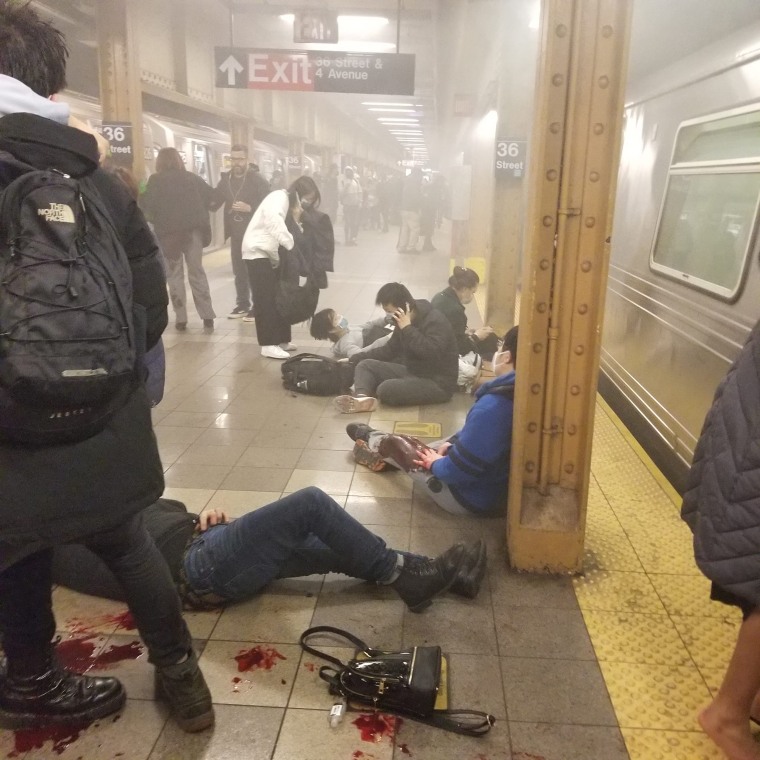 Passengers, including some of the wounded, stumbled out of the train — with a few of them boarding an R train across the platform to get away, witnesses and law enforcement sources told NBC New York.
In addition to the 10 shot, at least six others were hurt in the frantic rush to get away from the N train, the FDNY said.
Commuter Kenneth Foote-Smith called the scene "bedlam" and "like a horror movie." 
He said he heard shots coming from a neighboring car as it filled with smoke. And adding to the panic, riders fleeing that smoke-filled car couldn't get into his car for safety because of a jammed door, Foote-Smith said.
The train stopped just short of the station, presumably for a red light, leading to more panic.
"We can't even see the faces of the people in the train car anymore," Foote-Smith told NBC New York.
"We luckily pull up to the station very shortly after that. And we all run out once the doors open, and it's absolute bedlam. There's people fleeing up the stairs. Luckily an R train pulled up, there's people running into the R train."
The FDNY initially said several undetonated devices were found at the scene.
The NYPD, though, said no "active explosive devices" were immediately located. What was believed to be explosive devices "may just be debris," law enforcement sources said, according to NBC New York.
Police were looking for a man, believed to be about 5-foot-5, 180 pounds who wore a wear a green construction vest during the attack, officials and sources said.
Several commuters posted images of bloodshed and smoke in the Brooklyn subway station immediately after the attack.
Former NYPD Commissioner Dermot Shea urged the public not to jump to conclusions based on initial reports.
"It's important to know, at a scene such as this, it can be chaotic. You can have all sorts of information coming in and trained investigators then have to sift through that to determine what is reality versus what is what somebody perceived in a split second," Shea told MSNBC.
"This crime scene is only going to grow as time goes on. You have to imagine this occurring on a moving train. So there's potential that evidence is disturbed. People running out of there frantically. So everyone is kind of at this point, settling down, and now the investigation really starts so witnesses, video, all of this is critically important at this point."
The station where Tuesday's mayhem unfolded is a busy hub where,the N and R R lines runThere is no service there and at some stations in Manhattan i, officials announced after the shooting.he D and N are particularly popular lines, as they make express stops into Midtown Manhattan. . Cephones across the five boroughs buzzed hours after the incident, telling New Yorkers to stay away from ththe Sunset Park neighborhoodTwo schools were put on lockdown and most stores in the neighborhood evacuated, NBC New York reported.
President Biden hahas ieen befed on the subway shooting. White House senior staff are in touch with New York City Mayor Eric Adams and Commissioner Sewell to offer any assistance as needed.
"I'm closely monitoring the situation this morning at the 36th Street station in Sunset Park in our beloved Brooklyn," Brooklyn native and Senate Majority Leader Chuck Schumer said in a statement.
"I'm praying for all the victims, their families, all those impacted. I'm grateful for the quick action of our first responders."
Tuesday's bloodshed comes as New York City companies and employees struggle with return-to-office debates and whether workers should be forced back to headquarters they've barely seen over the last two years due to the Covid-19 pandemic.in a state dment.
"I'm praying r all the victims, their familie," Gov. Kathy Hochul told reporters.
"That sense of of tranquility and normal-ness was disrupted, brutally disrupted, by an individual so cold hearted and depraved of heart that they had no caring about the individuals that they assaulted as they simply went about their daily lives."
This is a developing story. Please refresh here for updates.
Alec Hernandez and Doha Madani contributed.